Oberlander Collection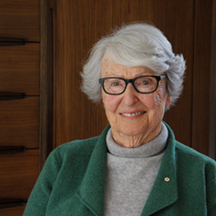 Cornelia Hahn Oberlander, an award-winning landscape architect based in Vancouver, British Columbia, generously donated her professional collection to the Dalhousie Libraries. The donation included books, journals, pamphlets, and garden tour guide books. Within the Dal Libraries, most of the collection went to the Sexton Design & Technology Library and some of the collection went to the MacRae Library.
Born in Muelheim-ruhr, Germany, Ms. Oberlander graduated from Harvard University's Graduate School of Design in 1947. She was named a fellow in both the Canadian and American Societies of Landscape Architects and in 2017 she was appointed as a Companion of the Order of Canada. She passed away on May 22, 2021.
The Cornelia Hahn Oberlander fonds was acquired in 1997 from Ms. Oberlander by the Canadian Centre for Architecture in Montreal. The material was transferred in several additions between 1996 and 2019 from Ms. Oberlander's residence and office. 
Bibliography of the Oberlander Collection at the MacRae Library

Bibliography of the Oberlander Collection at the Sexton Design & Technology Library