Arctic | Polar Collection (Dr. M.E. Hunter)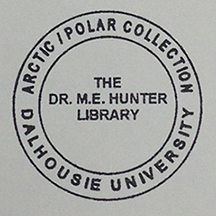 Dalhousie graduate Dr. Mary Hunter has had a passion for the Arctic since she was just five years old. A classroom display created by her kindergarten teacher ignited Dr. Hunter's interest in what would become a lifelong love.
It wasn't until after she graduated from medical school at Dalhousie in 1957 that Dr. Hunter had the opportunity to travel north. After experiencing first-hand all that the Arctic and Polar regions has to offer, she fell even more in love with the area. Inspired by the people, the landscape, the fresh air, the flora and the fauna, Dr. Hunter continued to make trips to the Arctic and Antarctic as often as she could, while her medical career took her to Ontario, Trinidad and England.
Dr. Hunter also built an extensive personal collection of carefully selected books about the North. The Killam Library is very fortunate to be the recent recipient of this collection, estimated to contain 250 volumes. The collection also contains ten years of back issues and a current subscription to Up Here, a Maclean's-style magazine for the North.
Two of Dr. Hunter's favourite books among those she donated to Dalhousie are The Long Exile: a tale of Inuit betrayal and survival inthe high Arctic by Melanie McGrath and A Complete Guide to Arctic Wildlife by Richard Sale. She recommends these books to anyone who wants to gain a basic understanding of the North.
Thank you Dr. Hunter for sharing your collection with the Dalhousie community. 
Dal Libraries story: Northern Highlights of the Killam Collection