Chat requires JavaScript.
Library News
Featured News, General Library News, Health Sciences, Killam Library, MacRae Library, W.K. Kellogg Health Sciences Library, Dalhousie Libraries, hours, killam library, sexton library, W.K.Kellogg Library
–
Thursday, October 8, 2015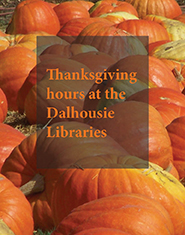 Monday, October 12 is Thanksgiving Day. Because it's a holiday, some of our libraries will have reduced hours that day. W.K. Kellogg Health Sciences Library 10 a.m.-6 p.m. Killam Memorial Library 1 p.m.–9 p.m. Sir James Dunn Law Library 9 a.m.–10:45 p.m. MacRae Library 10 a.m.–10:30 p.m. Sexton Design & Technology Library 10 a.m.-6 p.m.
Killam

The Killam Memorial Library is Dalhousie's central library. It is the largest academic library in the Maritimes.
MacRae
The Dalhousie Faculty of Agriculture's MacRae Library is the largest repository of agricultural resource material in Atlantic Canada.
Administration
Dalhousie University Libraries Administration and the University Librarian's office is located on the main floor of the Killam Memorial Library.