Chat requires JavaScript.
Library News
Agriculture, Architecture, Engineering & Planning, Archives & Special Collections, Arts, Social Sciences & Sciences, Featured News, General Library News, Headlines, Health Sciences, Killam Library, Law, MacRae Library, Sexton Library, W.K. Kellogg Health Sciences Library, website
–
Monday, June 27, 2016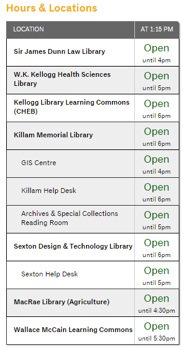 On July 5, watch for the refreshed version of the libraries.dal.ca The refreshed website features improved navigation, a new front page layout including a tab called "My Library Account," and a tabbed search box. We're especially proud of the new hours widget on the front page, allowing you to see at a glance the…
Read More »
Killam

The Killam Memorial Library is Dalhousie's central library. It is the largest academic library in the Maritimes.
MacRae
The Dalhousie Faculty of Agriculture's MacRae Library is the largest repository of agricultural resource material in Atlantic Canada.
Administration
Dalhousie University Libraries Administration and the University Librarian's office is located on the main floor of the Killam Memorial Library.