Chat requires JavaScript.
Library News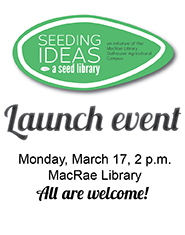 Featured News
  The MacRae Library on the Agricultural Campus is launching Seeding Ideas, a new seed lending library. All are welcome to attend the launch of Seeding Ideas on Monday, March 17 at 2 p.m. in the MacRae Library. Seeding Ideas will provide access to a collection of non-hybrid, non-genetically modified seeds that can be "borrowed" by [...] Read More.
About our Locations
Killam

The Killam Memorial Library is Dalhousie's central library. It is the largest academic library in the Maritimes.
MacRae
The Dalhousie Faculty of Agriculture's MacRae Library is the largest repository of agricultural resource material in Atlantic Canada.
Administration
Dalhousie University Libraries Administration and the University Librarian's office is located on the main floor of the Killam Memorial Library.