Protecting Your Own Copyright
Copyright protection for academics

For faculty at Dalhousie, unless you have agreed to relinquish your copyright as part of a course development contract, if you are uploading slides or other course material to Brightspace, which you have created yourself, you are the copyright owner (and this is an automatic right, there is no need for any registering).
In some cases there has been concern about students downloading and reposting this material on third party websites. If you are concerned about marking your slides and course materials to clearly communicate your ownership of the material may be a method of deterring this behavior. The materials may be marked with a simple statement like the following:
© Your Name, Year
You may also wish to add a statement such as this: "Note: copying this material for distribution (e.g. uploading material to a commercial third-party or public website) may lead to a violation of Copyright law."
Alternatively, you may also wish to add a Creative Commons (CC) license to your material. This communicates that you are allowing the re-use and distribution of your course content, but only under certain conditions you set. There are six licenses, which are outlined here: https://creativecommons.org/licenses/ To apply one to your course-material you may use the supplied graphic from that webpage, or simply type out the code (e.g., adding "This material is licensed under CC-BY-NC-SA 4.0" to your slides communicates that you are allowing users to reuse your material so long as (1) BY—they cite you as the creator, (2) NC—they do so for non-commercial purposes only, and (3) SA—they release any remix/edit of your material under the same license you've applied to your work). Violation of the terms of the CC license is the same as a copyright violation.
Brightspace Copyright notice widget
There is also a widget within Brightspace that you can include as part of your online course space to indicate appropriate and discourage inappropriate use of your copyrighted content.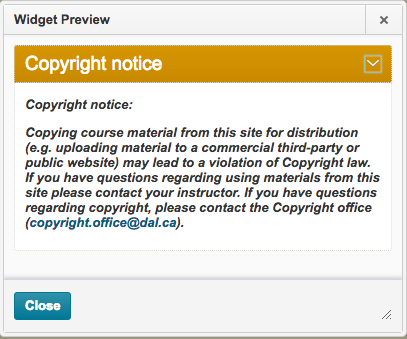 To add this widget to your Brightspace course site do the following:
1) Login to Brightspace and navigate to the course for which you wish to add the Copryright notice widget.
2) Click on the gear icon near the bottom of the course page to edit the widgets on the page.
3) Select the "Widgets" area and you will see the Copyright notice widget  - you can add it to an area on your course homepage that you feel appropriate.
For more information about changing the appearance of the layout of your Widgets see the Instructional Technology Resources for Faculty.