Library News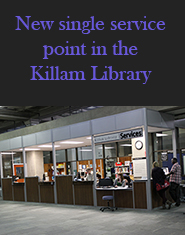 Featured News
If you've ventured into the Killam Library this past week, you'll see that the service area that once was labelled "Circulation" is now providing circulation, information and research assistance from the same desk. The idea behind this change is to provide better service to our users by ensuring a more efficient and effective allocation of the staff's [...] Read More.
About our Locations
Killam

The Killam Memorial Library is Dalhousie's central library. It is the largest academic library in the Maritimes.
MacRae
The Dalhousie Faculty of Agriculture's MacRae Library is the largest repository of agricultural resource material in Atlantic Canada.
Administration
Dalhousie University Libraries Administration and the University Librarian's office is located on the main floor of the Killam Memorial Library.